Even with Health and Safety legislation in Ireland getting injured at work has been a common event. Too often machines and equipment break down or you can be asked to perform tasks for which you have inadequate training or worse no training at all. In Ireland no employee is entitled to sick pay if they are not at work and even though you may be injured through no fault of your own, you may be entitled to Social Welfare or the benevolence of your employer. You can of course have the possibility of a personal injury claim for the trauma and loss of earnings but that will take many months to come through.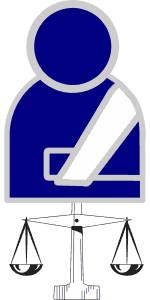 If you have an accident in the workplace, you should inform your employer as quickly as possible and you should make sure they write it down in the accident register – sending them an email detailing the circumstances of your accident is always recommended. If this is not done, or if there is not an accident register, you will need to record what happened in the accident and send it to your company.
If you cannot report the accident because you are too incapacitated then you should ask a colleague to record it for you. Make sure you make a report of the accident and take photos of the scene with your mobile phone if you can – if not ask a work colleague to take the photos. Also take down the names and details of any witnesses to the work accident if there were any. You should see your GP even for a minor injury that does not seem serious.
Your GP will note down the injury details of your workplace accident. This will come in very useful later on, for your personal injury solicitor if you wish to get compensated for your injury and loss of earnings, or if you need Social Welfare and you want to claim Social Security benefits. If you believe that the environment in your workplace are not safe, you should talk to your trade union representative, if you have one, or get in touch with the Health and Safety Executive.
If you believe that there are risks and immediate danger in the workplace, you have a legal right to protect yourself and your co employees. This could mean downing tools until the immediate danger is removed. You should get legal advice from an experienced and successful personal injury solicitor. If you want to make a personal injury claim, it must be started within two years of the accident. The cost of any legal action for a personal injury after a work accident can be expensive for you.
If you believe that you might be able to return to work to perform lighter duties, or a shorter schedule, talk to your boss and GP. Do not under any circumstances go back to your work before you are approved by your doctor as medically fit to do so.